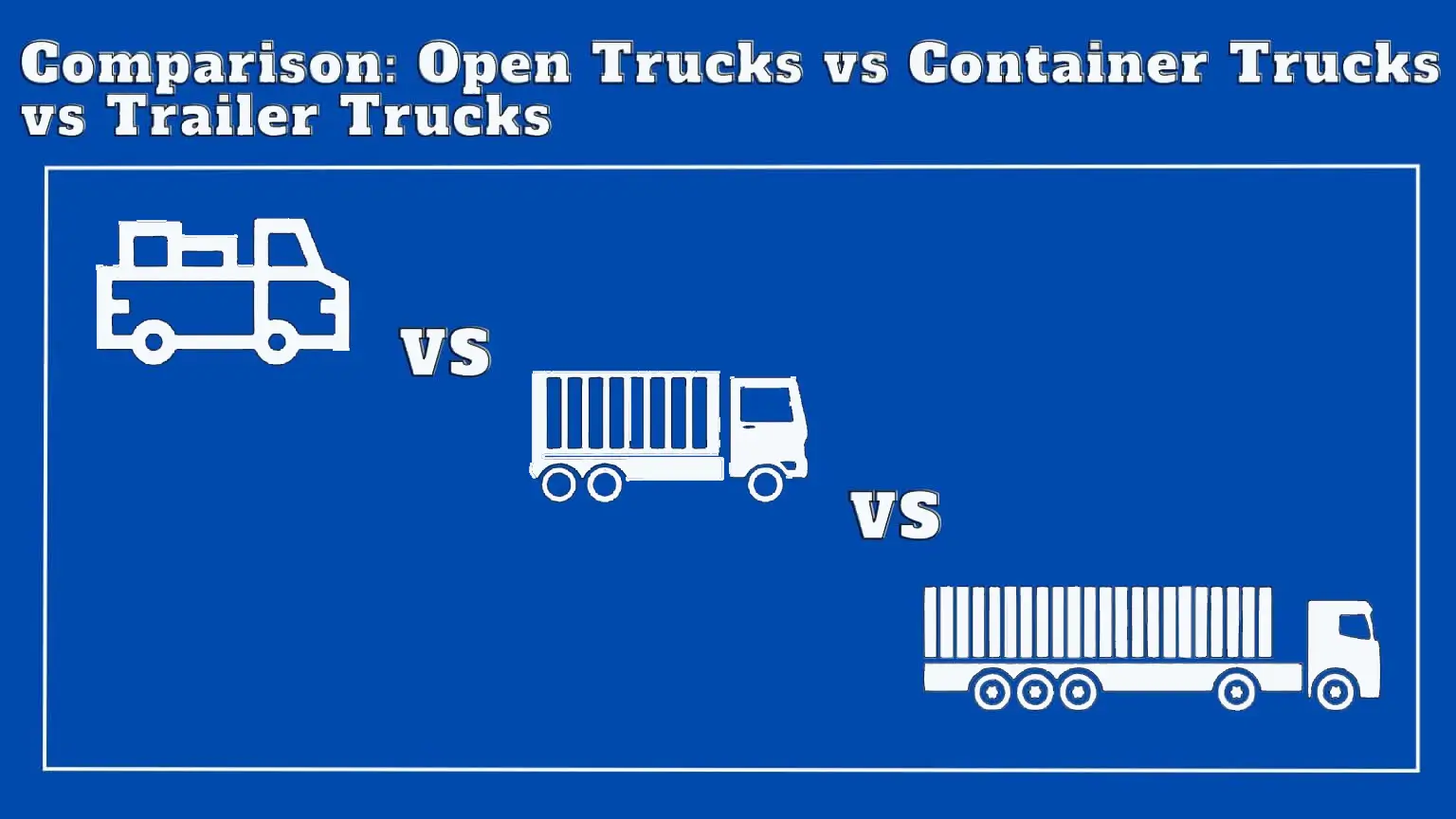 Truck comes in three designs open truck, container truck and trailer truck. All trucks are used for goods delivery, but they have distinct features that set them apart from each other.
Open Truck
An open truck, also known as a flatbed truck, is a type of vehicle that has an open, flat-bed trailer attached to the back with or without the side walls and tail gate and is open on the top. Having carrying capacity not less than 15 Tons. These trucks are mainly used to transport goods that are not affected by wind, rain or other weather conditions.
Container truck
A container truck, is closed from all sides which provides a weather-proof environment for the goods being transported, protecting them from wind, rain and other weather conditions. Containers come in a variety of sizes, with the most common being 14-foot and 40-foot long with a carrying capacity from 5 Tons to 20 Tons.
To learn more about container trucks and the applications suitable for them, explore this blog essential-container-truck-guide-everything-you-need-to-know.
Trailor Truck
A trailer truck is a type of vehicle that is equipped with a large, flat-bed trailer attached to the back. It's a truck that is made in two or more sections which are joined together by metal bars, so that the vehicle can turn more easily. It has a carrying capacity up to 35 Tons. These trucks are typically used for long-distance hauling.
Trailer trucks are divided into two categories
Trailer Container These trucks are equipped to transport shipping containers of different dimensions, including those that range from 20 ft to 40 ft for shipment purposes. Mainly carry shipping containers, which has to be carried in the ships or trains across the country and internationally.
Flatbed Trailer A flatbed trailer is a type that does not have sides or a roof, and the cargo is placed directly on the flatbed surface.
Comparison of This Trucks
Truck Type
Trucks Dominating This Segment
Applications Suitable

Open Truck

Mainly dominated by Eicher
👉14 Feet
👉17 Feet
👉19 Feet
👉20/24/26 Feet
👉32 Feet SXL
👉32 Feet MXL


1) Construction items like steel beams, lumber, and concrete blocks
2) Bulky items such as trees and bushes.
3) Special events: such as stages, CHAIRS and lighting, for special events such as concerts and festivals etc.

Container Trucks






Mainly dominated by Tata Motors and Ashok Leyland
👉Tata Ace
👉Tata 407
👉19 Feet
👉20/24/26 Feet
👉32 Feet SXL
👉32 Feet MXL

1) Retail and manufacturing
2) Agriculture products
3) Home appliance
4) Textiles etc.
Trailer Trucks
1) Trailer Container



2) Flatbed Trailer



Mainly dominated by Ashok Leyland and Bharat Benz
👉24 Feet Trailer
👉40 Feet Trailer
👉45 feet Trailer
👉48 feet Trailer
👉53 Feet Trailer



1) Trailer Containers
a) Textiles
b) Frozen products
c) Liquids freight
d) Military applications
e) Pharmaceuticals
f) Renewable energy equipment, such as wind turbines and solar panels
g) Telecommunications equipment
h) Power generators etc.

2) Flatbed Trailers
a) Steel applications
b) Aluminum rolls
c) Automobiles
d) Excavators
e) Bulldozers
f) Cranes
g) Tractors
h) Harvesters etc.

Book and check the market rate of these trucks now
Conclusion
It's hard to tell which type of truck is better and which is not. These trucks have their own features. Open trucks, container trucks, and trailer tractors are all different types of vehicles that are used for various cargo transportation needs. It is important to choose the right type of truck based on the cargo and regulations of the industry.

I am an HR by profession and a fervent writer at heart. My passion for writing and reading has been an intrinsic part of who I am. I take immense pleasure in sharing my thoughts and the detailed information of the logistics industry through my blogs. Previously in my college days I have published articles on ISBNs. Additionally, my writing ventures have extended to covering topics on Human Resource Management and Trucking and transportation Management reaching international and Indian audiences.