Truck load rates are the price that a trucking company charges to transport a full truckload of goods. The rate is usually based on the distance that the goods will be shipped, the type of goods being shipped, and the availability of trucks to transport the goods.
Other factors that can impact truck load rates include fuel costs, tolls, and the demand for trucking services. Trucking rates can differ widely depending on these and other factors, and it is important for companies to carefully consider their shipping needs and budget when selecting a trucking company.
BRIEFING:
The cost per KM of a truck depends on various factors such as truck types.
The content they carry (volumetric [candies] or dense loads [auto parts]).
Age of the truck (maintenance and EMI costs vary accordingly).
Size of the fleet and, also of the fleet owner (a larger fleet owned by an owner impacts maintenance costs by up to 15%).
Truck Make (Some trucks brands deliver a slightly higher mileage and this difference is essential to an extent in the total capital cost).
Geographical lanes in which the trucks operate (diesel prices vary across the country, so do tolls and traffic fines/penalties. This is an important factor as tolerance for overloading/Over dimensions varies across the country thereby limiting the maximum loaded weight of a truck. Rajasthan-Gujrat border is the strictest in the country for this).
Type of market the truck services (if a truck services big brands they have very high compliance requirements from the truck such as tyre depth, specific truck floor requirements, truck body requirements eg. Glass manufacturers such as Saint Gobain require very strong truck sides which requires additional reinforcements and investment from the fleet owner).
Type of customers a truck services.
Seasonality (Diwali season in North, pre-Diwali season for paint customer increases loading and unloading waiting periods as these are sales peaks, though these do not have a very high impact when averaged out over the year).
| | | |
| --- | --- | --- |
| Row Labels | Cost/KM 32 FT MAC | Contribution |
| Fuel | Rs.20.3 | 45.0% |
| Documentation (permits, insurance etc) | Rs.6.8 | 15.0% |
| Tolls | Rs.4.5 | 10.0% |
| Driver Salary & Expenses | Rs.4.5 | 10.0% |
| Maintainence | Rs.4.5 | 10.0% |
| Others (misc.) | Rs.2.3 | 5.0% |
| Loading/Unloading | Rs.1.4 | 3.0% |
| Tyres | Rs.0.9 | 2.0% |
| Grand Total | Rs.45.0 | 100.0% |
Example – Typically, for a 32 feet multi-axle truck within its EMI period costs are as follows. As these are very general calculations and will be different with the above calculations.
Visit FR8's Website to know about our truck load rates that is operational on a Pan India basis – https://www.fr8.in/truck-rates
VARIATION IN RATING:
Rates vary considerably for full truck load (FTL) and less than truckload (LTL) as does the cost structure. Again when you say commodities, rates are cheaper than for say Container trailers and are very high for project transport (think the ODC, super ODC cargo).

Below mentioned is a brief overview of a typical 20′, dry container transport traffic.

For an instance (anonymous), I work in the logistics sector, and have worked with a large road transport company in a strategic capacity – so saw all pricing and rates up-close.

The Cost Structure – if your spend is Rs 100, the costs are broken up as follows.
Fuel – 40%
Tolls – 14%
Vehicle EMI – 17%
Wages – 11%
Tire wear & tear – 6-8% (better quality tyres = higher upfront cost but better longevity. Sad tyres at start = lower upfront but greater replacement costs).
Maintenance – 5%
Others – bribes (used to be as high as 10% pre GST and checkpoint era), Insurance, Fitness cert, police/accidents etc.
Now this varies within the industry as for a 2 truck fleet operator, operating in the Broker market, wages and maintenance will be lower (overheads) but fuel and dep will be higher. Lots of arrangements & combinations here.
INSIGHTS:
Below is the cost structure of Indian trucking industry as per a study conducted in 2019. The figure is taken directly from their report for the purpose of better understanding on this subject.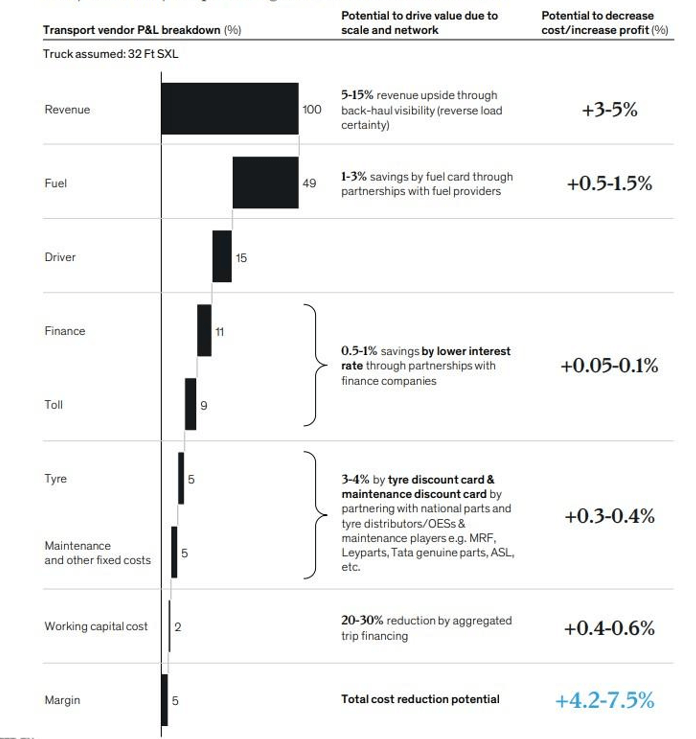 REAL TIME EXAMPLE:
There is a place called Sankagiri near Salem in Tamil Nadu. Everyone in the town is somehow or the other connected to the trucking business. So much so that Ashok Leyland till a few years back sold a model called 'Sankagiri Express'.
The business system they follow there is the Owner rents the truck out to the Driver. The Driver gets paid 17 paise per kilometre and the truck is out running loads for 15+ days at a time. After 15+ days the truck returns and the Driver hands over the earnings to the Owner minus his 17 paise per kilometre.
There are many in-between calculations, eg. Pooja charges are deductible at 100Rs. per day. Loading and un-loading charges have to be paid by the Driver from his 17 paise. FastTag charges are dealt by the owner. The Driver keeps and account of all expenses, fuel, commission paid to get load etc.
Its extremely complicated and time consuming to estimate the exact expenses.
E.g. Tyres. Trucks come with steel belted radials from the show room, they get exchanged immediately for tubeless tyres. The branded ones cost 35,000 a pair when checked last time, many use 'Chinese tyres' that cost 22,000 a pair.
Tyres last from anywhere between 75,000 to 90,000 and then get retreaded to last another 40,000 kilometres. A tyre can be retreaded twice. Some tyres burst and last only 20,000 – 40,000 kilometres – when new, some cannot be retreaded. Some can be retreaded only once, so very difficult to calculate the cost overall.
Also, fuel expenses vary from place – to – place. On highways its 3+kmpl on ghat sections & its 1.5liters per kilometre. Depends on which route the truck gets load for.
Trucking in the olden days used to be a 6 wheel affair, then with the 2213 from TATA it moved to 10 wheels, for sometime tractor tailers dominated, nowadays its the multi axle trucks, with anything from 10 to 20 tyres with 3 to 6 axles. There are all types of configurations, twin steer to 2 lift axles. Right now the winner is the Ashok Leyland 3520, with 2 twin steer axles in front and 8 tyres at the back in 2 axles, 1 drive and 1 dummy axle.
CONCLUSION
Truck load rates vary from organization to organization. It depends on several factors that needs to be considered while setting the load rate. The above mentioned points are some of the significant elements that goes into account in the process. In order to know more about truck load rates, visit this link to get a brief insight on this very subject – https://www.team-bhp.com/forum/commercial-vehicles/247711-cost-per-km-truck-india-2.html