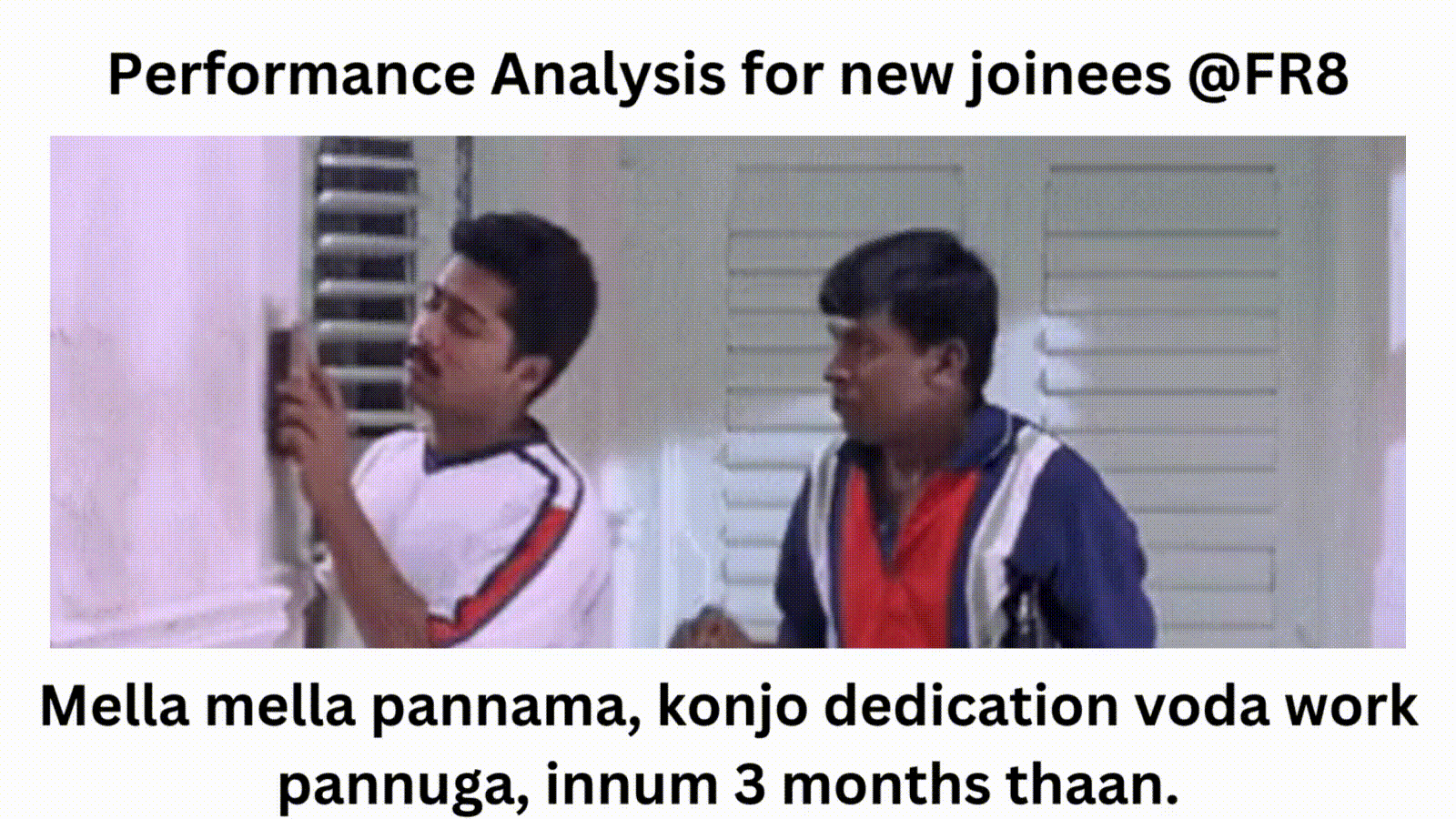 FR8 believes that to achieve success, it must work closely with its employees, who are the driving force behind the organization. They play a critical role in establishing a strong foundation for the company's long-term success and must therefore be productive, dedicated, honest, responsible, and adhere to the code of conduct.
FR8 follows a thorough process for confirming/promoting and potentially firing employees. This process begins with hiring individuals who are a good fit for the job. New hires are given a three-month period to become acclimated to the company. During this time duration, FR8 evaluates new hires to determine their potential with the company. We consider three key factors in this assessment.
But before that, you must go through this blog to know the evolution of hiring at FR8 Evolution of Hiring and Job Descriptions at FR8
Three key factors for this assessment
Ethical Issues – Ethics means what is right and what is wrong. It means employees should have the attributes like honesty, dedication, commitment, confidentiality and responsibility towards the organization.
An employee should always act in a way that is right for the company. And if they fail to do so, they may face consequences, which is termination. It is important for both employees and organizations to prioritize ethical behavior in order to maintain trust and create a positive work environment.
For your understanding, here are some cases where the employee has breached ethical standards
An employee who is in the bidding process tries to direct trucks to other brokers for personal gain
Creating dummy orders in the system to falsely inflate the order count
Moonlighting or working for another company while employed by another company
An employee who misuses their access to company banking systems to divert funds to their own accounts
Employee's Behavior – FR8 expects its employees to adhere to the FR8IAN's codes in order to achieve both personal and organizational goals. The code includes exhibiting qualities such as ambition, productivity, and a willingness to take risks and learn. Check the FR8IAN codes for more information.
If an employee's behavior does not align with these expectations. The company may provide them with an opportunity to improve. However, if their behavior does not change, the company will take disciplinary action. Which is termination, in order to maintain a positive working environment. If the employee's behavior meets expectations, then the next step in the process is target evaluation.
Target Accomplishment – It's important for a company to set targets in order to stay competitive in the market and achieve success. The final key in this process is to determine whether the employee has successfully achieved their targets or not.
If an employee does not have ethical issues and their behavior aligns with codes, and have achieved their targets, they are eligible for confirmation or promotion. If their behavior aligns, but they have not achieved their targets, then the company will provide additional training or reassigning them to a different role in which they will be able to contribute better.
To understand this process easily consider the chart and below points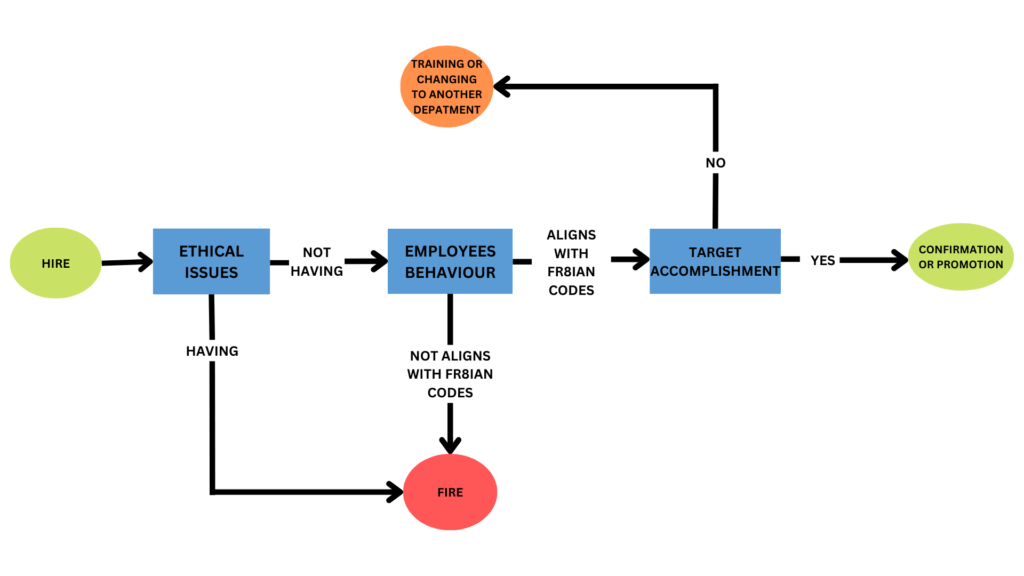 The First priority is that all employees have good ethics and do not have any ethical issues. If they have ethical issues, then he/she will be terminated immediately.
The second priority is to evaluate the behavior of the employee and ensure that it aligns with the FR8IAN codes. If an employee's behavior does not align with the company's standards, then he/she will be terminated, if it aligns then we will check the final priority.
In final priority we check, if an employee is achieving the targets or not. If yes, he/she is achieving the target and follows FR8IAN codes, they will be eligible for confirmation or promotion. If their behavior aligns with the codes, but doesn't meet their targets, the company will try to provide additional training or change to another role where they can give their best.
Conclusion
At our organization, we prioritize supporting the growth and development of our employees. We offer various benefits and strategies to motivate and engage our workforce. Refer this blog to know what we offer Employee Motivation at FR8: Best Practices and Strategies. In return, we expect employees to fully commit to their work and adhere to company guidelines. By meeting these expectations, employees can reach their full potential and succeed within the company.

I am an HR by profession and a fervent writer at heart. My passion for writing and reading has been an intrinsic part of who I am. I take immense pleasure in sharing my thoughts and the detailed information of the logistics industry through my blogs. Previously in my college days I have published articles on ISBNs. Additionally, my writing ventures have extended to covering topics on Human Resource Management and Trucking and transportation Management reaching international and Indian audiences.