For many years, containerization has been a crucial component of the transportation sector. Their impact on the transportation sector, as well as on domestic and foreign trade and commerce, is enormous.
Any form of transportation can no longer be considered a standalone entity because they are all now connected and help the supply chain. The trucking industry in India supports containerization in all its forms because the country's internal access is primarily through roads, making it easier for goods to move around without being restricted.
Container market growth
By 2028, the container market in India is projected to be worth USD 10.3 billion, expanding at a compound annual growth rate (CAGR) of 1.7%. Due to a rise in international trade agreements, the growth can be attributed to an increase in maritime shipping. On the domestic front, the e-commerce sector is growing, and a surge in commodity demand, never before seen with urbanization, is driving up the need for containers.
Imprints of technology are also seen, such as navigation systems and advanced sensors contributing to the container growth engine.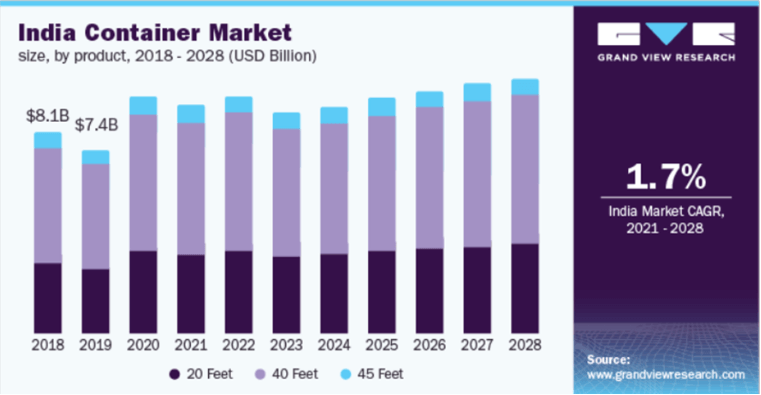 Since the use of containers is expanding in the inland market, there ought to be some advantage driving the expansion. Let us focus on a few.
Some pros seen in India through containerization are:
The cargo arrives in perfect condition with no damage.
Eliminates intermediate cargo handling, and as a result, no brokerage fee is incurred.
Aids in the expansion and development of trade and benefits all parties.
Flexibility: capable of moving various goods, including perishables, manufactured goods, and commodities. There are containers explicitly designed to hold specific types of goods.
The standardization of containers is done so they can be used in all modes (trucks, barges, and ships) and handled anywhere in the world (ISO standard).
A specific number and size type code identifies each container.
What are the main challenges in the container truck business?
Along with the benefits, there have to be challenges too. We need to discuss them.
Investment intensive:
Owning and leasing a container is more challenging than increasing the owner's bottom line. It concerns the infrastructure; man & machinery required to maintain and handle the containers. The installation of giant cranes, warehouses, and inland roads is necessary for this capital-intensive project. Large corporations or financial institutions are the only entities with the resources to handle this task. Automation and technology are both viable options for making intermodal terminals more investment oriented.


Assembling:
The arrangement of containers on land, in containerships, and in double-stack trains involves significant complexity. This necessitates frequent reorientation or restacking calls, which add to the terminal operators' expenses and time commitment. Operational management becomes challenging when the yard or the load is big.


Access to warehousing: 
Lack of warehousing, particularly for containers, will challenge any trucking company. The distance must be travelled to drop off and pick up a trailer for delivery because there is no regular local warehousing. Additionally, as the mileage rises, so does the fuel cost, and returning empty containers only worsens things. In time, the customer will be responsible for paying for this. 


Better infrastructure: 
It is undeniable that India's infrastructure is developing quickly, and express corridors are linking all the major cities. A general demand for commodities arises as the economy expands and must be satisfied. Heavy container traffic because all remote areas are still not adequately connected to the main roads. A reliable road network is necessary to support the proliferation of containerized goods transportation. 


Theft and losses:
When moving goods from one location to another, security is always prioritized. When expensive items are transported in containers, breaking open the container and taking the items inside is possible. That's one of the main justifications you should work with a reputable truck transport company like FR8, which is highly concerned with the security and safety of the goods transported. 


Untimely delivery:
Due to the numerous procedures involved, the timely delivery of container shipments continues to be complicated. The route to the destination is challenging if the terrain is unsuitable for heavy containers during peak hours when it is raining, foggy, or when visibility is poor and slowing down is necessary. Customers value prompt deliveries, but long-distance container loads take time. When you make a reservation using the FR8 mobile app, you can track the status of your container shipment "live". Therefore, it is simple to identify any distractions, and solutions are offered.


Limitations of finding containers and drivers in certain locations:
Container consignment is not restricted to main cities only; there are many tier III and IV cities or sub-urban localities with a need. Further, getting experienced drivers for these types of vehicles is another herculean task. Then they are stuck with the expensive price tag attached to it. Many small consignors are dissuaded from moving further and prefer to sell in the local market due to the above mentioned problems.

The brighter side is that we have an online truck booking platform ready to offer their services as FR8 to connect truck owners with the right container trucks and certified drivers. 

How FR8 can help
We have read about the problems, but solutions are also required if the container truck industry is to be successful. FR8 is an early bird that needed to integrate a dysfunctional truck industry. This change began with the launch of online truck booking applications on both mobile and desktop platforms in the Indian market.
Our app has connected truck owners, load owners, and dependable drivers to find the appropriate containers for their shipments for the past seven years. Our longevity on the road results from our clients' confidence in us.
Call us +919342968140 or download our mobile app to send your shipment through containers.