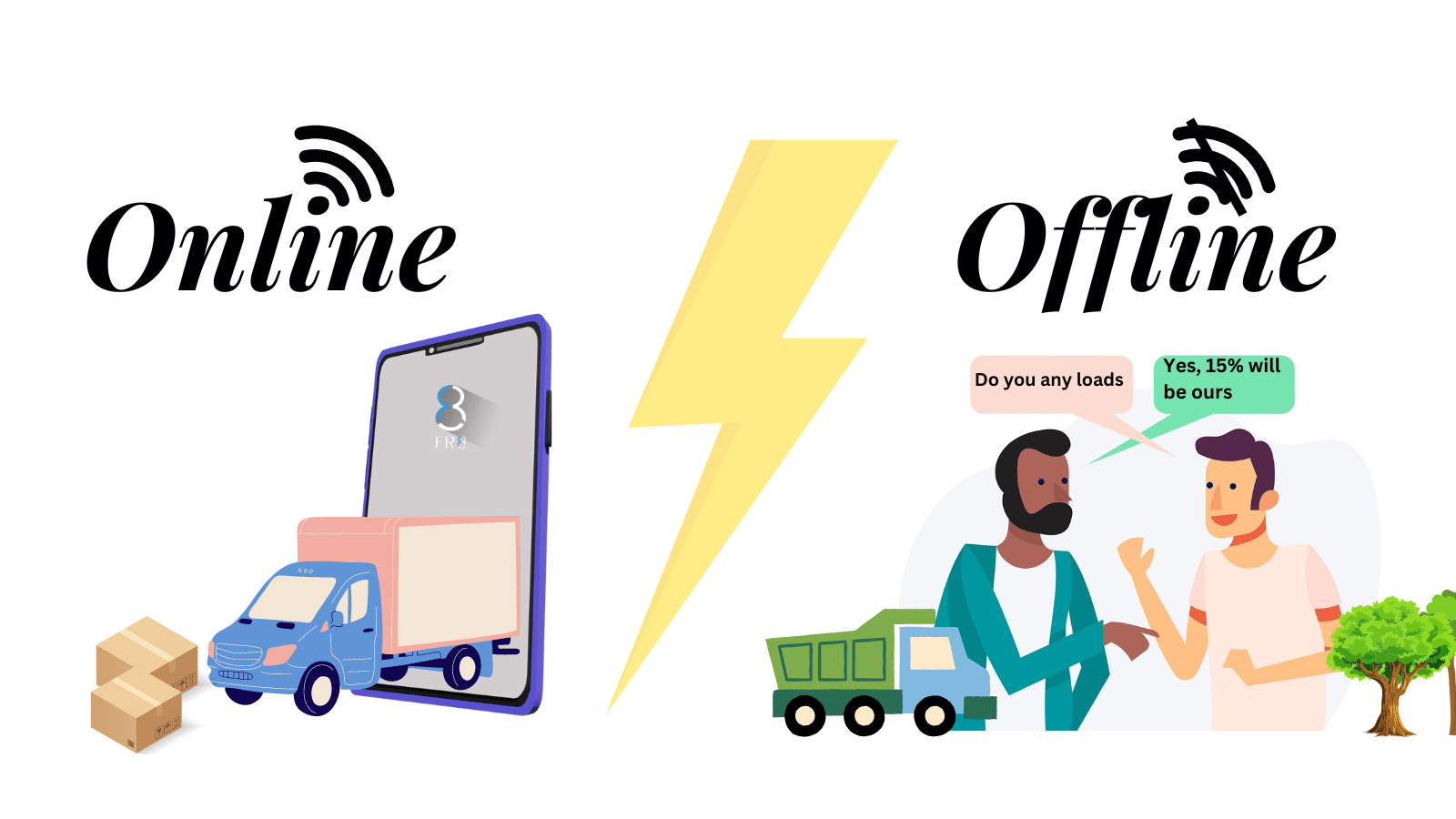 Traditionally, the logistics industry operated primarily in the offline realm for a considerable period of time. However, with the advent of the pandemic and changing times, every industry has transitioned towards an online approach, and logistics is no exception. As a result, the logistics industry has had to adapt to the new digital culture.
In modern times, people tend to prefer smart work over hard work, and this trend is understandable considering the pace of technological advancements. It is essential to keep up with these changes. In response, several companies have entered the logistics industry, offering applications that allow customers to book trucks from anywhere in the country within minutes. This eliminates the unwanted steps.
Lets see the comparison of booking truck online vs booking truck offline
1. Pan India Exposure
Going digital had benefited in many ways. Especially in this Covid 19 time, this has emerged as a boon to the transportation industry. Like in traditional way there is no need to contact different agents or middleman across the state. You can book a truck from anywhere in whole India with just a swap of your fingers. Reach our digitalized truck booking website and book any type of truck from anywhere in just three steps!!
First register in our application then follow the following steps:
Step 1: Create Indent
Fill Pick up and drop, material type, tonnage of truck.

Step 2: Check Price
Check prices and trucks availability that matches your requirements.

Step 3: Get Trucks
Get truck number and truck driver details within a second.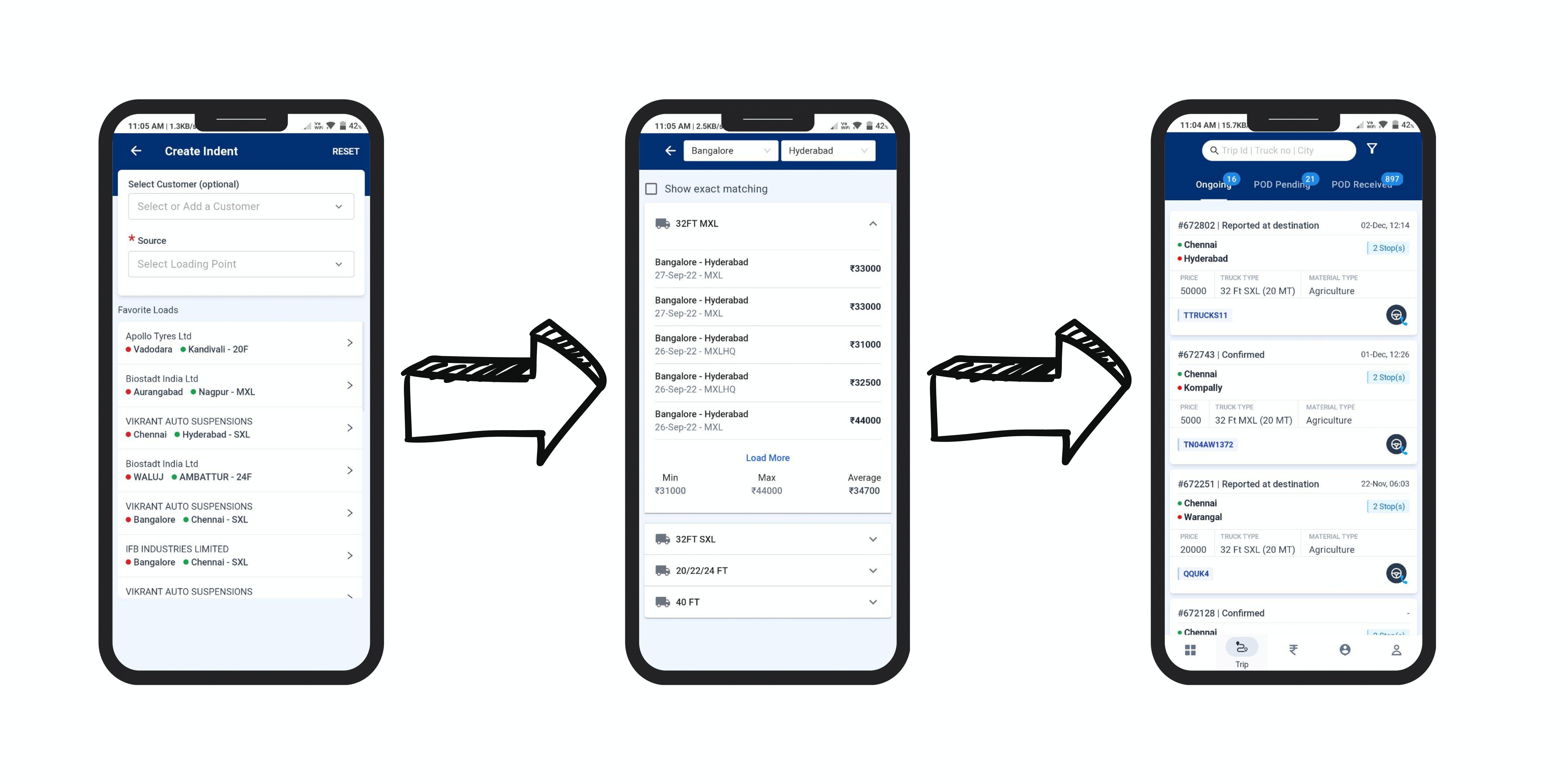 Look how easy is to book a truck online in just three steps and few tabs in your mobile phones!!
2. No Hidden Knowledge
In the traditional method of booking transportation services, customers have to contact several agents who charge a commission. In cases where the agent does not have any contacts available, they contact sub-brokers who also charge their own commission.
As a result, by the time the payment reaches the truck owners, they only receive a small percentage of the total amount paid. Often, customers are unaware of the sub-broker's commission, and this information is hidden from them.
In contrast, digital platforms have eliminated the need for these brokers, allowing customers to connect directly with transporters. This not only prevents exploitation but also enables customers to check the current market rates for trucks.
Additionally, our customer service team is available to provide all the necessary information regarding the trip, ensuring a transparent and hassle-free experience for our customers.

You can easily understand by this image that in traditional way, how a truck owner get a information. You can also notice that how much share is going out before reaching the truck owner.
And what we do? we connect you directly to the transporters with best truck rates it saves time and revenue for the truck owners.
3. One Way Communication and 24/7 Availability
Offline truck booking required face-to-face meetings with clients or being physically present for transactions, negotiations, or other service-related activities.
Digitalized transportation service offer transparent communication, with all information readily available online and no hidden details.
Additionally, when booking a truck, customers can rely on the assistance of a customer service representative who is available to guide them through any issues, at any time. With online booking options, customers can conveniently book their truck at any time, without having to worry about limitations on availability.
One can even reach to our FR8 website and chat with us or call us to tel:+919362200200 .
4. Security
Compared to offline transportation options, digitalized transportation offers greater security as all information is accessible 24/7, tracking is available, and all communication and documentation are done online. This provides an added layer of safety and security for customers, allowing them to track their shipment in real-time and ensuring that all necessary documents are accessible at all times through the digital platform.
We at FR8 understand the importance of safety and assist our customers in the collection and submission of documents within a record time of 10 days of delivery. The soft copy of the POD is kept as a backup and is accessible via the web portal, so customers can access it anytime.
Before ending the topic, lets go towards FR8 as a online-truck-booking service platform
In the trucking industry, building a brand name and establishing a customer base offline can be a time-consuming process that takes years to achieve.
FR8 entered the industry as a digitalized transportation service provider with the goal of "Bettering lives of truck owners"
As a digitalized transportation service platform we aim to bring transparency, convenience, and fairness to the trucking industry. By streamlining the process of connecting truck owners with transporters, FR8 hopes to simplify the logistics process and provide a more efficient service for all parties involved. This approach has allowed us to quickly gain traction in the industry and build a reputation for reliability and quality service.

I am an HR by profession and a fervent writer at heart. My passion for writing and reading has been an intrinsic part of who I am. I take immense pleasure in sharing my thoughts and the detailed information of the logistics industry through my blogs. Previously in my college days I have published articles on ISBNs. Additionally, my writing ventures have extended to covering topics on Human Resource Management and Trucking and transportation Management reaching international and Indian audiences.