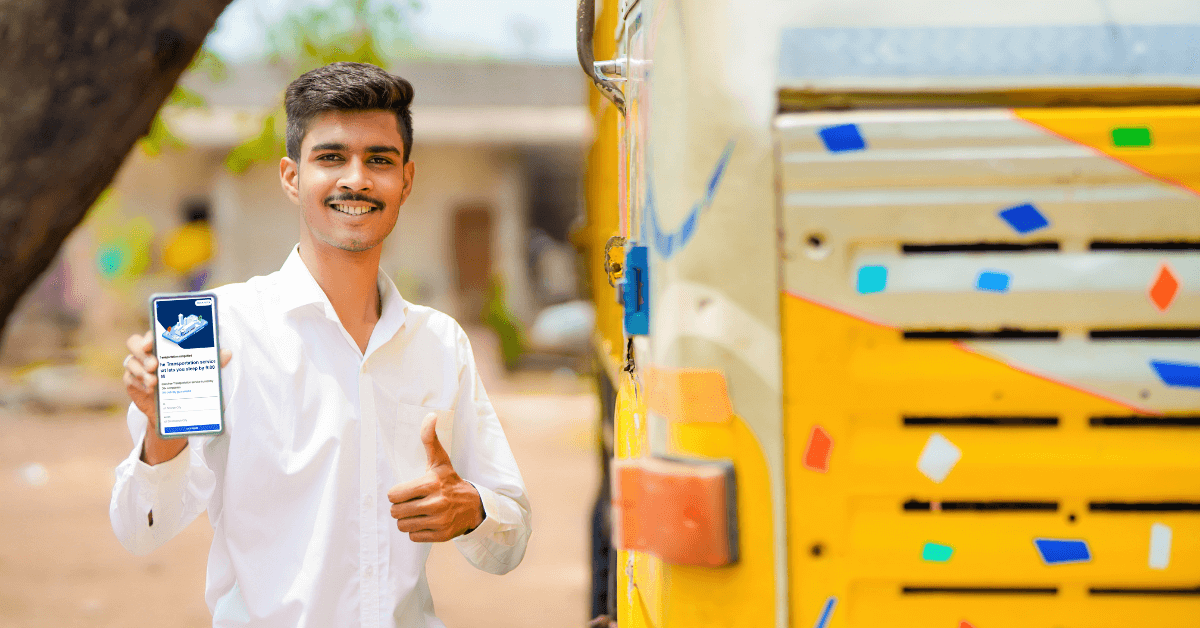 Road transportation is an important factor in any economy's development. The transport sector in India is large and diverse, with trucks carrying nearly 80% of all freight. The Indian trucking sector contributes about 4.5-5% of GDP and accounts for 80% of the transportation sector's contribution to GDP. The Indian trucking industry has seen phenomenal growth and will continue to do so in the coming years.
Despite the fact that it is an unorganized sector seeking legitimacy with other industries, it is gradually catching up with the other players. This sector is making the right moves by taking advantage of technology and playing an active role in digitalization.
What is an online truck transport service platform?
An online truck transport service platform is a website or mobile application run by a well-organized team that connects truck owners with customers interested in sending their consignment across India. These platforms help load owners find trucks that meet their needs and get them to their destinations. It is cost and time effective, secure, and eliminates the hassle of mediators' intervention. Numerous platforms offer these services, one of which is FR8.
Let us now trace and track this platform's benefits from a customer's perspective:
1) Affordability for all socioeconomic groups
Load owners' top priorities continue to be price and security. Reserving trucks through this platform is less expensive than renting a truck locally. Furthermore, multiple brokers' involvement increases the cost of transportation. You get the benefit of 'live interactive pricing' and are free of the threat of hidden fees when you use an online truck booking platform.
2) Variety of trucks to choose from
While load owners need help finding the right truck locally to transport their goods over long distances, there is always a shortage of multi-utility vehicles. This issue is addressed through an online truck service platform.
There is a large selection of trucks of various sizes and specifications, and load owners can choose the best one for their consignment. As a consignor, you are given a variety of trucks to choose from with appropriate pricing through the FR8 online booking app or website.
3) Real-time tracking of vehicles
When customers book their trucks through local agencies, they need help knowing the status of the consignment. When they book through an online platform like FR8, they can track the status of their vehicle in real-time. The Sim and Fastag tracking systems available in each truck provide them with real-time status. As a result, truck drivers are aware that they are accountable in the event of a delay, and there is safe, secure, and timely delivery.
4) Safe transit of your goods
Customers are concerned about their products' security, safety, and protection while they are being transported. When you book online with a reputable platform like FR8, your problems are resolved immediately. Sufficient security measures are in place to ensure the safe passage of your shipment.
With our trusted owners and verified trucks, your goods will arrive on time and with all of their contents intact. The 'Proof of Delivery' is issued to the load owner within ten days once the shipment reaches its destination.
5) The simplicity of booking a truck
Customers are drawn to book their consignment as their awareness of the benefits of booking online grows. Customers can make online truck reservations using a variety of user-friendly platforms. Platforms like FR8 enable you to register and book your goods in three easy steps. Furthermore, the customer can deal with the truck owner, view the various options available, and select one. Live pricing is available for comparison before making a final decision. Customer service is available around the clock to assist with any questions.
6) An early and timely 'POD'
Businesses send loads all over India on a regular basis. They are aware that their goods have been delivered, but they require solid proof for internal documentation and auditing purposes. A 'proof of delivery' is extremely beneficial to them. We at FR8 understand this and assist our customers in the collection and submission of documents within a record time of 10 days of delivery. The soft copy of the POD is kept as a backup and is accessible via the web portal, so customers can access it anytime.
Before we close:
Technology and innovation are unavoidable; all industries must capitalize on them to the greatest extent possible. Industries that are incapable of evolving fail miserably. Truck online booking platforms are part of the trend, and they have benefited truck owners, businesses, customers, and truck drivers.
FR8 is a leading trucking platform where customers benefit from and are pleased with our services. If you want to know more, please give us a call at +919362200200.

Jay is the Co-founder and CTO of FR8. With 18 years of experience, Jay loves working on complex problem and providing simple technical solution. He likes training and empowering team by teaching them skills they need, questions they need to ask and answers they need to figure out instead of spoon feeding the answers.