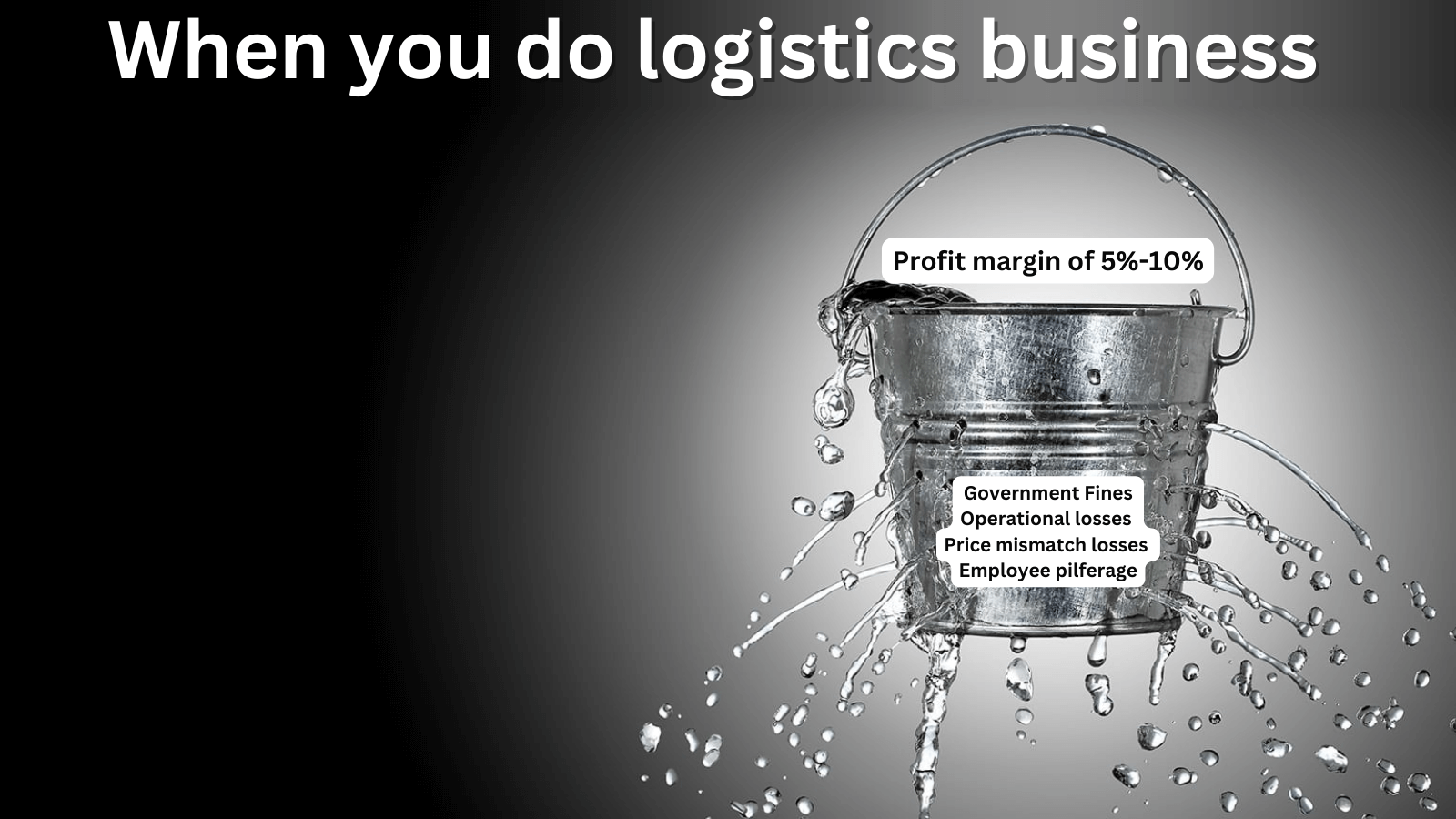 Road transportation service is a low margin business where profits are in the range of 5 to 10%. Automation and loss reduction are crucial to run logistics and road transportation service in a profitable and sustainable manner. Losses in road transportation can happen due to a multitude of reasons. It is very tough to fill a leaking bucket. It is crucial to arrest them. To avoid losses you need to know what are these holes are.
Major categories of losses are
Government Fines
Operational losses like late delivery, damage, shortage, halting
Fraudulent transaction
Price mismatch losses due to bidding
Employee pilferage
1. Government fines
A logistics company and the truck owner have to remember some points otherwise they may incur themselves in great fines. Sometimes the truck owners or transporters just neglect it, or it goes unnoticed. A truck travels through various states, they have to keep in mind the RTO rules, government regulations and Motor Vehicle Act.
As we all know India is becoming a fine country. The fines you need to be aware as a logistics company are
This is the most common mistake done by them. Some states are very strict like Delhi border, Orissa border and West Bengal. Different types of truck have different capacity for loads and a truck should only carry that much, which is authorized by the government. For your reference, these are the rules from the Ministry of Road Transport and Highways. Mainly the overweight is caused by the body of the truck, some truck drivers use cheap quality and some use good quality of material. let's take an example of Three Axle Rigid Truck 
GVW allowed = 28.5 ton
Truck chassis weight = 7 Ton
GVW – Chassis = 21.5 Ton
Truck body weight
Light = 2.5
Medium = 3.5
Heavy = 4
Type Ton Carrying Capacity
Light body 2.5 = 19 Ton
Medium Body 3.5 = 18 Ton
Heavy body (South trucks) 4 = 17.5 Ton
GVW (Gross Vehicle Weight)
The weight allowed for this truck is 28.5 Ton, the weight of the truck itself is 7 Ton. So, the truck has the capacity to carry 21.5 Tonnes. There are three ways in which a truck driver builds the body light body, medium body and heavy body, this material weight is also calculated. You can see in the example, how the carrying capacity of the truck is calculated. The weight of the material used always differs, that's why it is common for any truck to get overloaded without their knowledge.
Traffic rules and documents required
Driving without following the traffic rules and proper documents is illegal. According to Motor Vehicle Act 2019 the Government of India has made Third-Party Liability Insurance mandatory for all motor vehicles to drive legally on the road. The fine for the first offence of driving without insurance policy is Rs.2,000/- and/or imprisonment of up to 3 months. For the second time offence, if you continue to drive a vehicle without insurance policy then you will be liable to pay a fine of Rs.4,000 and/or imprisonment of up to 3 months. This page will give you a brief information about the fine and imprisonment of driving without a license, RC Book and also about drunk driving and speed Limit. 
To avoid fine and imprisonment you should
Have hard copy of license, RC, pollution certificate of your truck
Have soft copy of these documents in your mobile also
Remember to renew your insurance policy to avoid penalties
Border in Sates like Maharashtra, Orissa, Delhi are very strict on overloading and fines can be as high as Rs 50,000
Goods and Service Tax (GST) and Eway bill
GST means single tax on the supply of goods and services. All cargo transportation services by road are exempt (not applicable) from GST except services from Goods Transport Agency (GTA) and courier services. GTA means any person or agency who provides service in relation to transport of goods by road and issues a consignment note (A document given by the transport providers). It is important for the truck owners to know the rate of GST on the goods transportation service offered by GTA. Household goods and item of personal use attracts 5% GST (SGST 2.5% and CGST 2.5%) and some specific goods which are exempted from GTA
Agricultural product
Goods, where consideration charged for the transportation of goods on a consignment transported in a single carriage does not exceed one thousand five hundred rupees
Goods, where consideration charged for transportation of all such goods for a single consignee does not exceed rupees seven hundred and fifty
Milk, salt and food grain including flour, pulses and rice
organic manure
Newspaper or magazines registered with the Registrar of Newspapers
Relief materials meant for victims of natural or man-made disasters, calamities, accidents or mishap.
Defence or military equipment.
Learn about GST on Goods Transport Services from this official government resource.
Eway bill fines for expiry, minor mistakes can be very high to the tune of 5 to 10 lakhs in certail states like Uttar Pradesh, Bihar and Maharashtra
Tips:
Eway bill management and extension becomes a main part of truck tracking. It is prudent to extend earlier if you feel your truck will reach before eway bill expiry. Eway bill related fines are very high in Uttar pradesh, Bihar and Maharashtra. Explore more on how to calculate e-way bill before actully stepping into it.
New age Transport Management Software like digitify, easy way bill can automate eway bill management and renewal process. Integrated Sim tracking and GPS tracking also helps in automation of eway bill
New amendments are in place to reduce fines for minor mistakes hindi video and tamil video. It's always better to prevent these issues as handling government agency during transit of goods is very painful
2. Operational losses
Operational losses means the losses occurred during the transportation operation process. The losses can be anything from material damages to order cancellation due to late delivery etc. In freight shipping there is always a fear of risk, because no one can predict what will happen during the course of goods transportation. The major risks are
Material damage It can occur when the material is not stacked properly, if one box moves the other moves automatically resulting in crushed, squashed and broken products. Improper packing leads to material damage and unprecedented events also like bumpy or zigzag roads.
Late deliveries The most common factors resulting in delayed delivery are misspelt, incomplete or outdated addresses that lead to failed delivery attempts and incorrectly completed order forms.
Halting In Indian logistics sector, it's a common practice to us truck as a warehouse. Large MNC during peak periods like end of the month or end of the quater they do not have proper planning and have 3-4 days of unloading haling. These companies pay very minimal halting charges of 1000 per day after 24 Hours. All transporters in India should demand higher halting charges per day and it should be (EMI + driver salary / 30). For example, an 18 Ton MXL truck with monthly EMI of 60K and monthly driver salary of 30K should have a halting charge of 3,000 per day.
Halting per day
(after 24 Hours)
32 Feet MXL Container
32 Feet SXL Container
20 Feet Container
Current
Rs 1200
Rs 1000
Rs 800
Proposed
(EMI + driver salary / 30)
Rs 3000
Rs 2500
Rs 2000
Halting charges proposed to reduce halting
3. Fraudulent transaction:
Fraudulent transaction in transportation is getting higher day by day. Always use trusted brokers and truck owners. Have a stringent KYC process. 1 single mistake in a year can cause huge losses and mental agony.
Tips:
Have a stringent KYC and onboarding process

Very PAN and do a online search based on PAN number to match
Get RC documents and verify using https://vahan.parivahan.gov.in/

Get GPS tracking or sim tracking details of first trip
Verify details with driver during 1st load about owner and broker
If advance value is higher like 1 lakh amount. Pay in 2 or 3 parts based on completed distance
4. Price quotation losses due to bidding: Reverse auction mistakes
Most of large MNC have a reverse auction mechanism done once in 6 months or 12 months. Multiple transporters bid to win lanes and prices are fixed for the contract period. Reverse auction is very tempting as it is time bound if your quoted price is low you are stuck with the contact throughout the contract period and losses can run into crores if not handled properly
Tips:
During bidiing process Be calm like Captain Cool Dhoni
Know the annual truck hire rates trend and try to have minimum 7% on average.
If you realise quoted rates are too low, have a open discussion with end shippers and renegotiate before starting operations
5. Employee kickbacks: Transportation mamul
Employee pilferage is an act in which the coordinator who is involved in the bidding process gives the trucks or loads to the brokers who are providing extra commission to the coordinator. It is a common practice for transport service in India to have employees at very low salary. The average salary for entry level person is below 12,000 per month. This is a major reason for employees to take kickbacks in terms of mamul from truck owners or brokers. This is a unhealthy practice as employees will start to treat transport brokers and truck owners in a unfair way by collusion with known brokers and truck owners who pay more money as kickbacks.
Tips:
Take care of employees and pay a decent minimum salary of Rs 15,000.
Have a strict no mamul or kickback policy and terminate in case of any wrong doings
Compare your purchase rate with market rate and choose the best truck rates.
Conclusion
The profit earned in a logistics business is 5% to 10%. The logistics company should know all the updated information about the law, rules and regulations by the government to avoid the fines. Automating the process using transportation management systems and having a right and tight process is crucial to run it in a profitable manner.
Tip:
Provisional losses: Having 2% of your revenue as provisional losses is a good place to start with in a new contract. Lesser your actual losses, it is better for the business but provisioning 2% is a good accounting practice.

I am an HR by profession and a fervent writer at heart. My passion for writing and reading has been an intrinsic part of who I am. I take immense pleasure in sharing my thoughts and the detailed information of the logistics industry through my blogs. Previously in my college days I have published articles on ISBNs. Additionally, my writing ventures have extended to covering topics on Human Resource Management and Trucking and transportation Management reaching international and Indian audiences.