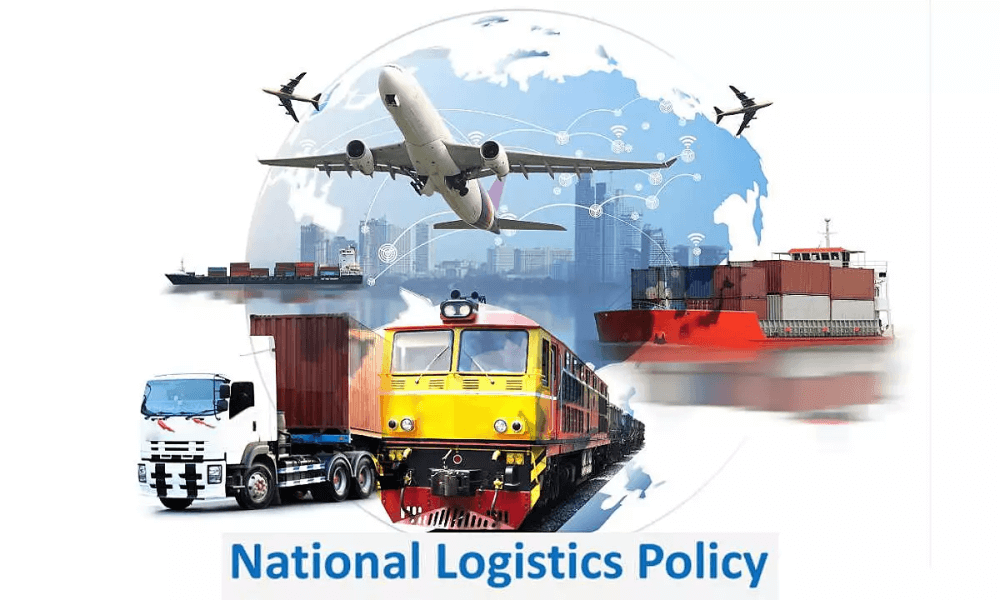 To accelerate the convenience of doing business and improve the live-ability outcome, Prime Minister Narendra Modi launched the National Logistics Policy (NLP) on 17th September 2022 in Vigyan Bhawan, New Delhi. The main aim of this policy is to reduce the cost of logistics from the existing 13-14% and take it further to par with other developed countries. This will boost the competitiveness of Indian products in both the Indian home market and the international market. Furthermore, the reduced cost will also enhance efficiency efforts cutting across all sectors of economy, which motivates value addition and enterprise.
National Logistics Policy restores many fields. Today, India is preparing the base before introducing any policy only then can a policy be executed successfully. It took 8 years for NLP to develop. Policy shifts and important decisions are being made to fasten last-mile delivery, ending transport-related problems, saving manufacturers time and money, and preventing wasting agricultural products. Improvement in coordination will boost sector speed, value creation, and entrepreneurship. This planning aims to boost economic growth, offer employment opportunities, and turn Indian products more competitive in the global market.
Aim of National Logistics Policy 2022
The aim of the National Logistics Policy is to reduce the cost of logistics from its current 14% of GDP to less than 10% by 2023 despite the highly shattered nature of India's logistics industry.
The National Logistics Policy is a broad effort to witness cost and inefficiency by problems lying down a comprehensive interdisciplinary, cross-sectoral, and multi-jurisdictional framework for developing whole logistics ecosystem.
The first step in this direction was the PM Gatishakti National Master Plan for multi-modal connectivity. The implementation of the National Logistics Policy will give PM Gatishakti an extra drive and complementarity.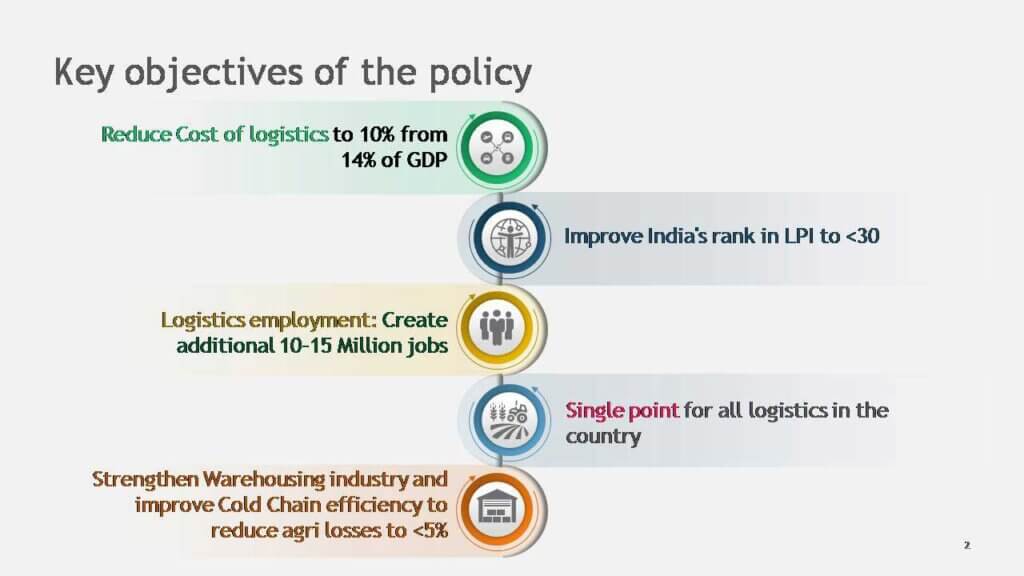 What are the focus areas?
The policy will be executed through a Comprehensive Logistics Action Plan (CLAP). The involvements proposed are divided into eight major action areas:
Integrated Digital Logistics Systems

As a factor of Logistics Policy, it will create a process of merged logistics interface to connect several data sources and offer cross-sector use cases for logistics stakeholders.

Standardization of physical assets and benchmarking of service quality standards

By systematizing available physical assets and comparing quality standards in logistics, one may boost interoperability, reduce handling risks, utilize processes, and make it simpler to do business.

Logistics Human Resources Development and Capacity Building

To create a broad logistics human resource strategy and, likewise with its guiding principles, create action plans to tackle issues with skill development and internal capacity building in the important sector.

State Engagement

Support the development of state-and city-level logistics strategies. Set up institutional frameworks for the state- and city-level action plans. Measure and rank state actions.

EXIM (Export-Import) Logistics

To accelerate trade competitiveness and further India's inclusion into regional and global value chains to create an effective, reliable logistics network.

Service Improvement Framework

Improving the authority interface to motivate standardization, formalization and interoperability.

Sectoral Plan for Efficient Logistics

As per PM Gatishakti, Sectoral Plans for Efficient Logistics (SPEL) will be made for each sector, in accordance to the principles of interoperability, resiliency, sustainability and innovation.

Infrastructure, process, digital advancements, policy and regulatory reforms, capacity building for a good workforce, and logistics-related complications would all be addressed by SPEL.

Facilitation of Development of Logistics Parks

Logistics parks, such as multi-modal logistics parks, air freight stations, inland container depots, container freight stations, cargo terminals, etc., serve as center for supply chain medium operations including storage, handling, value addition, inter-modal transfers, etc. that are interlinked by a transportation network.
Why National Logistics Policy is important?
India spends between 13 and 14 percent of its GDP on logistics costs. And, other developed countries like Germany and Japan, which are known for their highly developed (and advanced) infrastructure and systems for logistics, spend just about 8% to 9% of their GDP on Logistics.
Additionally, the logistics industry is worth $200 billion and is supported by over 20 government agencies, 40 Partner Government Agencies (PGA), 37 export promotion councils, 500 certifications, over 10,000 commodities, and a large number of certificates. Furthermore, it covers 50 IT ecosystems, banks and insurance organizations, together with 200 shipping firms, 36 logistics services, 129 inland container depots (ICD), and 166 container freight stations (CFS).
The Ministry of Commerce and industry mentioned that more than 22 million people in India depend on the logistics industry for their daily livelihood. Enhancing the sector will enable a reduction of 10% in indirect logistics costs, which will eventually result in an increase of 5 to 8% in exports.
India stands behind countries such as the United States and China, which are placed 14th and 26th, respectively, in the 2018 World Bank Logistics index for logistics costs. The Logistics Performance index places Germany at the top and India at the 44th rank.

What is Unified Logistics Interface Platform (ULIP)

Unified Logistics Interface Platform (ULIP) has been recognized as a convincing step that has been considered to provide an integrated platform that can be used effectively by stakeholders to improve efficiency, utilize technology, and lower the cost of logistics in India. This initiative aims to achieve an "Atmanirbhar Bharat" in the logistics sector.
ULIP was selected as one of the seven initiatives under the "Technology Commons" initiative, which utilizes technology in particular identified priority areas by creating world-class products and services.
Three levels set up the ULIP platform as a whole: the integration layer, the Governance layer, and the Presentation layer. The aim is to develop a UPI-like framework that will permit the logistics department's transactions to be authorized.
ULIP would bring together seven ministries on a single platform to provide logistics companies details about the flow of cargo around the country. In addition, the 17 digital platforms from the seven ministries will be unified by the government into ULIP.
Information on cargo movement across the nation would be made available to logistics companies, importers, and exporters through ULIP, which will also support in granting approvals for cargo transportation.
Conclusion
India must acutely reduce its logistics costs, if it wants to boost the competitiveness of its exports and domestic products. Low logistics costs increase efficiency around several economic sectors, promoting value creation and entrepreneurship.
The country's farmers and peasants would benefit greatly from the policy since it would allow them to market their products faster, drop down on waste, and prevent unnecessary delays, all of which would lower prices overall.
The National Logistics Policy is a strong next step after the PM Gati Shakti (to know more about the PM Gati Shakti plan consider this blog gati-shakti) National Master Plan and would provide a comprehensive roadmap for the growth and development of the whole logistics ecosystem.

I am an HR by profession and a fervent writer at heart. My passion for writing and reading has been an intrinsic part of who I am. I take immense pleasure in sharing my thoughts and the detailed information of the logistics industry through my blogs. Previously in my college days I have published articles on ISBNs. Additionally, my writing ventures have extended to covering topics on Human Resource Management and Trucking and transportation Management reaching international and Indian audiences.