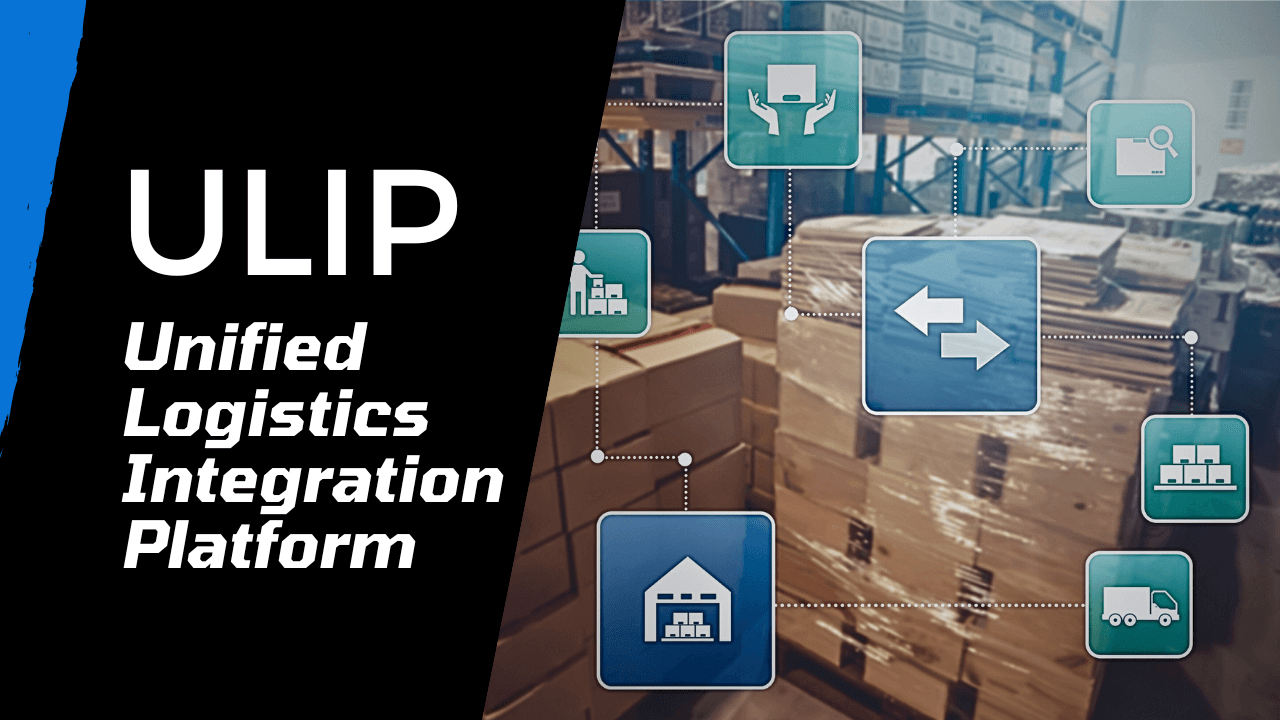 India is a land of opportunity for global logistics providers. The Indian logistics market is estimated to be worth $215 billion and growing at a rate of 7% per year. Considered extremely disorganized, with a large number of unorganized players. Only 10% to 15% of the 215 billion industry is organized, and logistics costs approximately 12 to 14% of India's GDP. Extremely high when compared to developed economies, and even a 9% cost reduction can save $50 billion.
Some of the most prominent reasons are:
Due to delays, underutilization of trucks, and trucks running empty, Indian trucks only run 15 to 16 days per month.
In comparison to their global counterparts, who travel 500 to 600 kilometres per day, Indian trucks travel only 300 kilometres per day. In that 40% is empty running time.
There are 2 to 3 intermediaries between the truck driver and the consignor. Truck owners lose between 15% and 20% of their revenue as commission.
We witness a low level of technology adoption amongst transport and warehousing players
High indirect costs on account of unpredictable supply chains and poor first & last mile connectivity.
India wants to achieve an "Atma Nirbhar Bharat" in the logistics sector, therefore, it intends to:
Reduce logistics costs in India to be competitive with global benchmarks by 2030.
Logistics Performance Index ranking – strive to be one of the top 25 countries by 2030.
Create a data-driven decision-support mechanism for an efficient logistics ecosystem.
What is ULIP in the logistics sector?
NICDC's Logistics Data Bank Project has been used to develop a Unified Logistics Interface Platform (ULIP) in the logistics sector, which is in line with PM GatiShakti's overall goal. ULIP will address the challenges of delayed processes and manual activities in India's logistics sector and will be a game changer in the Indian logistics landscape.
It's overall objectives are:
Connect individual silos and integrate various Ministries and Departments.
In the logistics industry, establish a single point of contact.
Reduce time constraints, improve efficiency, foster a transparent culture, provide visibility for optimal usage of various modes of transport and make India cost-competitive.
The platform will be used by all parties, including various government agencies, private parties, service providers, shippers, and consignees.
They exchange confidential information in real time among all stakeholders.
Stakeholders will use data to simplify complex processes such as compliance, document filing, certification, and approvals.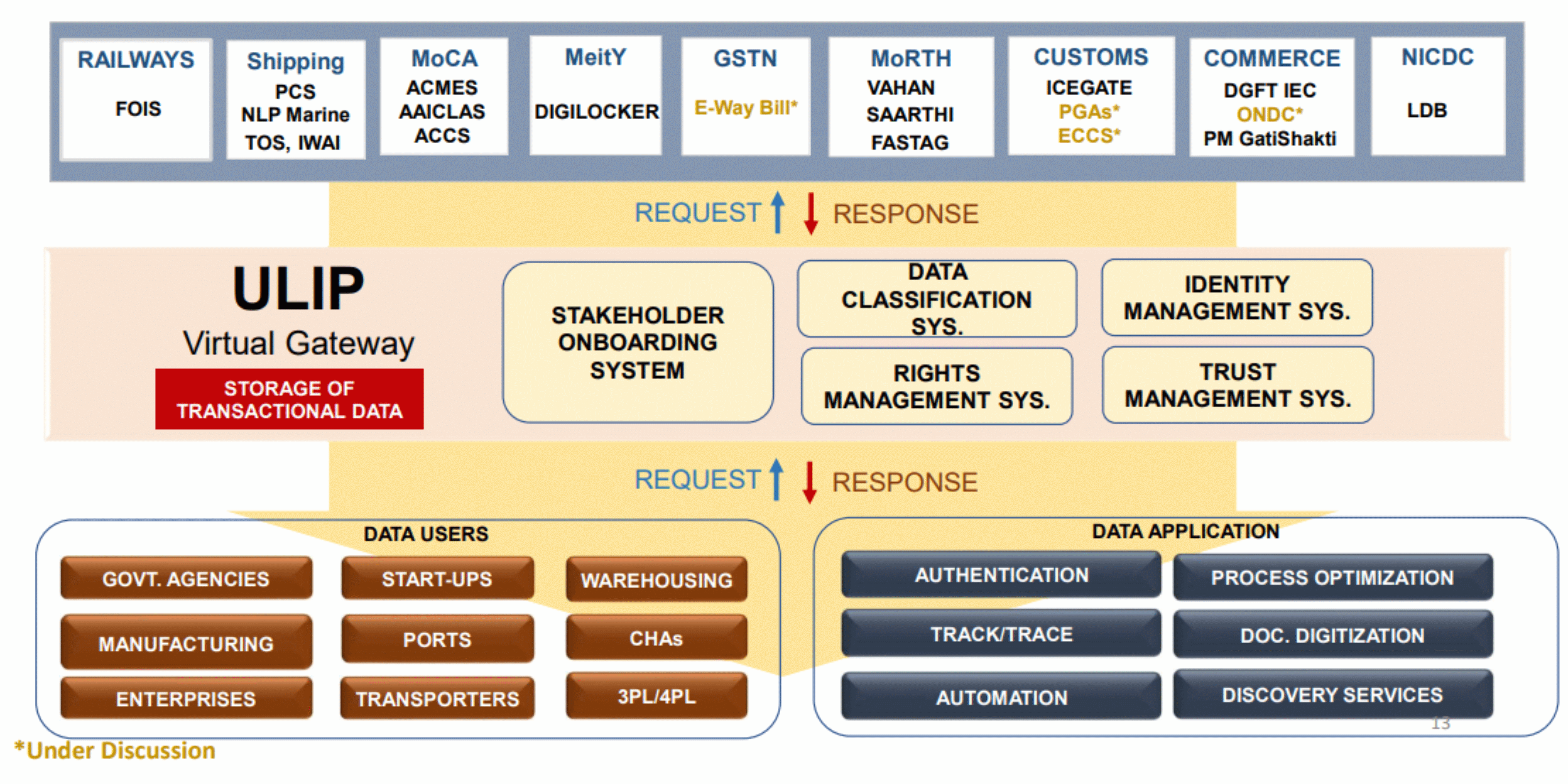 What are the components of ULIP and how does its ecosystem work?
The ULIP architecture operates as an open-source platform, with each input or requests eliciting a response. It is a synthesis of several systems with distinct stakeholders. The platform comprises a three-tier structure.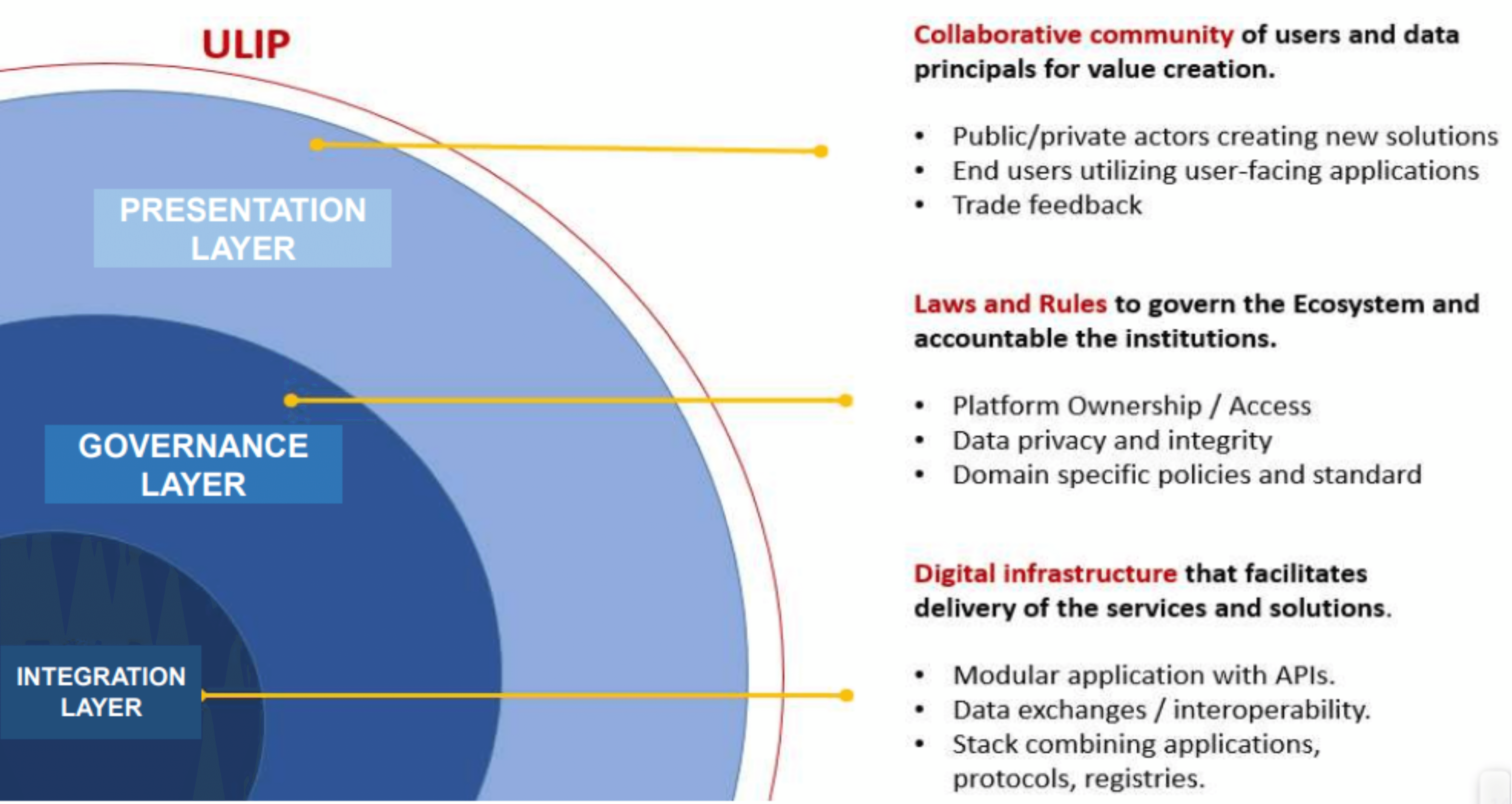 The components are summarized below:
Governance Layer – data merger with government ministries

To ensure quick consensus and streamline the approval mechanism. The system integrates various ministries and checkpoints by interlinking the facility points.

More than 30 logistics systems from seven ministries/departments covering 1600 fields are integrated through 102 APIs with ULIP.
Ensure compliance, data privacy, and integrity.
Structure allowing every single transaction to be authenticated.

Presentation Layer – sharing information with private stakeholders

To facilitate the exchange of data (shipping, dispatch, and distribution) between private players, supply chain service providers, and businesses. ULIP will restructure the processes to improve proficiency through data exchange.

Developed by involving the private sector and creating solutions to their problems.
Acts as an interface with the end customer.

Integration Layer – of all supply chain documentation

To facilitate digitized document numbering, ULIP creates a single platform for all documentation processes.

Data exchange takes place between the data principles and data users.
Work carried out through the integration of APIs.
Along with data exchanges, interoperability.
What are the benefits of ULIP for the various stakeholders?
Any system that benefits from technological advancement benefits all parties involved. This collaborative effort assists all parties in conducting transactions under the umbrella of a ULIP. Let us see how individually they are going to take advantage.
The benefit to the various ministries:
Support inter-ministry collaboration and ease of doing business through non-repetition of formalities by various ministries.
It serves as a planning tool for the construction of a logistics infrastructure.
Help to compete at par in an international environment due to the digitization of the data and process structure.
Bring in additional private partners to maximize the use of various modes of transportation.
The benefit to the load owner:
Aids in 'just in time' inventory management.
Cargo movement is tracked in 'real time' on a single platform.
Identification of logistics modes that are cost-effective.
The benefit to truck drivers:
Capable of determining where there is a demand for them.
Truck empty movement can be reduced.
Receive a fair price for their services.
The benefit to the online service provider like FR8:
Simplification of the documentation process
Assist in determining exact pricing, avoiding unnecessary costs, and optimizing labor.
Provide various value-added services to end users.
How will ULIP boost the logistics sector's efficiency?
For the logistics sector, ULIP brings 4 important data sets
E-way Bill

The e-way bill is an electronic document introduced in India under the Goods and Services Tax (GST) regime to streamline the logistics process. It has to be produced by transporters for any consignment exceeding Rs 50,000. It includes information such as the invoice number, the value of the goods, the location of supply, and transportation.

Fully online and enabling 'Paperless' movement to track and monitor goods movement across multiple states
Improve service delivery with a quick turnaround time for the entire supply chain and provide anytime, anywhere access to data/services
Minimal physical interaction with the relevant departments and smooth movement of goods technology used
For the entire country, a single and unified e-Way Bill for inter- and intra-state goods movement has been developed.
Checks and balances for smooth tax administration, as well as process simplification for easier e-way Bill verification by Tax Officers.
There are several methods for creating e-way bills.

With Eway bill integration through ULIP, it will reduce the chances of fines for the transporters. You can also use eway bill integration from various service providers like easy way bill, digitify integration to automate this process

FASTag

FASTag is a tag fitted on vehicles to facilitate electronic toll collection in India, and is operated by 23 banks governed by NPCI (National Payment Corporation Of India) and NHAI (National Highway Authority of India). It uses Radio Frequency Identification (RFID) technology to eliminate human intervention in the toll collection system.

FASTag is attached to the vehicle's windshield and is linked to a prepaid account. Toll payments are made via RFID as the vehicle passes through the toll gate, eliminating the need for a pit stop along the way.
The transaction will be deducted from the prepaid FASTag account, making payments more convenient.
This will save you fuel and time every time you pass through a toll plaza. On a larger scale, this can help decongest toll plazas and reduce traffic congestion.
FASTag makes it easier to keep track of your toll expenses. FASTag customers receive SMS and email alerts on their registered mobile numbers and email addresses whenever the tag account is used for transactions.
A FASTag also provides additional benefits such as emergency FASTAg road assistance and accidental death coverage.

Market hired trucks account for 80% of all trucks used in transportation. Transporters rely on SIM tracking to track their trucks, which is unreliable and inefficient. During transit, a truck driver may turn off their phone, or the driver may change.

Fastag-based tracking can provide reliable and cost-effective data. Again, TMS platforms such as digitify include the automate tracking and monitoring of your fleet features.

MORTH Vahhan / Saarathi

The Ministry of Road Transport and Highways (MoRTH) facilitated the computerization of over 1300 Road Transport Offices (RTOs) across the country through the VAHAN and SARATHI software. The MoRTH entrusted the National Informatics Centre (NIC) with standardizing and deploying two software products, i.e., VAHAN and SARATHI.

The Vahan module helps the Department of Transport in processing all the transactions related to vehicles registration while Sarathi module is for processing driving license and related activities.

Benefits are:

Citizens can use the Parivahan Sewa Portal to apply for a new learner's license, driving license, request changes in details, pay various taxes and fees, and so on.
This portal empowers citizens by allowing them to access information and services from all State Transportation Departments online, eliminating the need to visit transport offices.
Citizens save money and time by using the portal to access all transportation office services.
Transporters can use the VAHAN and SARATHI applications to renew their National Permit for Goods Vehicles on the Parivahan Sewa Portal.
Transporters can obtain the downloadable permit by paying the stipulated permit fees via the portal's ePayment system.
This portal also allows traffic officers to quickly access vehicle information.
Assist the investigating agency in detecting the misuse and forgery of documents and signatures by interstate vehicle racketeers.

Because 80% of trucks are hired from the market, there is an increase in digital fraud in India's logistics sector. Digital fraud is rampant on online marketplaces such as Vahak, TruckSuvidha, and Blackbuck. Currently, truck and driver KYC is done manually by checking the RC copy of the truck owner and the driver's driving license.
With ULIP-based integration, the truck owner's name can be validated using the Vahan API or Saarthi API by submitting the truck number or driver's license.
Finally, ULIP is the new face of India's Digital India campaign. We, at FR8 online booking platform, take advantage of technological advancements to provide better services to our clients.
Give us a call +919362200200 if you want to learn more about us.

Jay is the Co-founder and CTO of FR8. With 18 years of experience, Jay loves working on complex problem and providing simple technical solution. He likes training and empowering team by teaching them skills they need, questions they need to ask and answers they need to figure out instead of spoon feeding the answers.